School Meals
The school lunch break is from 12.00 to 1.00pm for year 3 and 4 children and from 12.30 to 1.30pm for children in year 5 and 6. Cooked school meals are available each day. All meat and poultry served by the kitchen is Halal, click here to see the current certificate. Dinner money is paid, in advance, on a weekly or half termly basis, using the Tucasi Online payment system (see below for more information). The cost for school meals is £10.25 per week. (£2.05 per day).
Provision is made for children who wish to bring a packed lunch to eat at school. These lunches should be in a suitable container. All drinks should be in unbreakable containers. Parents are asked to support our healthy eating drive by packing fruit and yoghurts rather than crisps and chocolate.
Details of our menus can be seen below (please scroll down)
Please notify the Kitchen Manager, one week in advance, if you wish to change your child's lunch-time arrangements.
Menus for Autumn/ Spring 2018-2019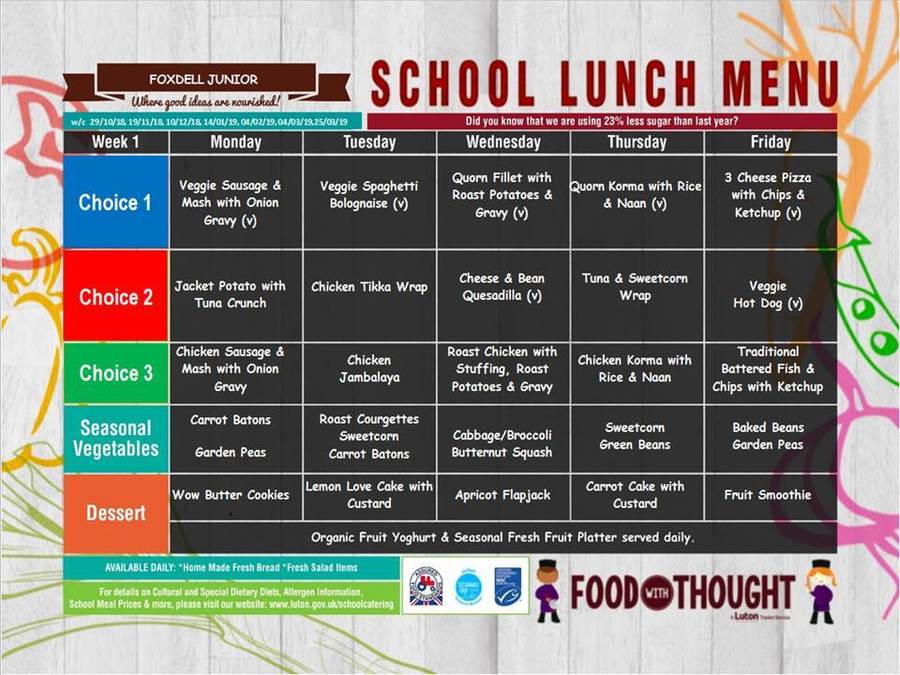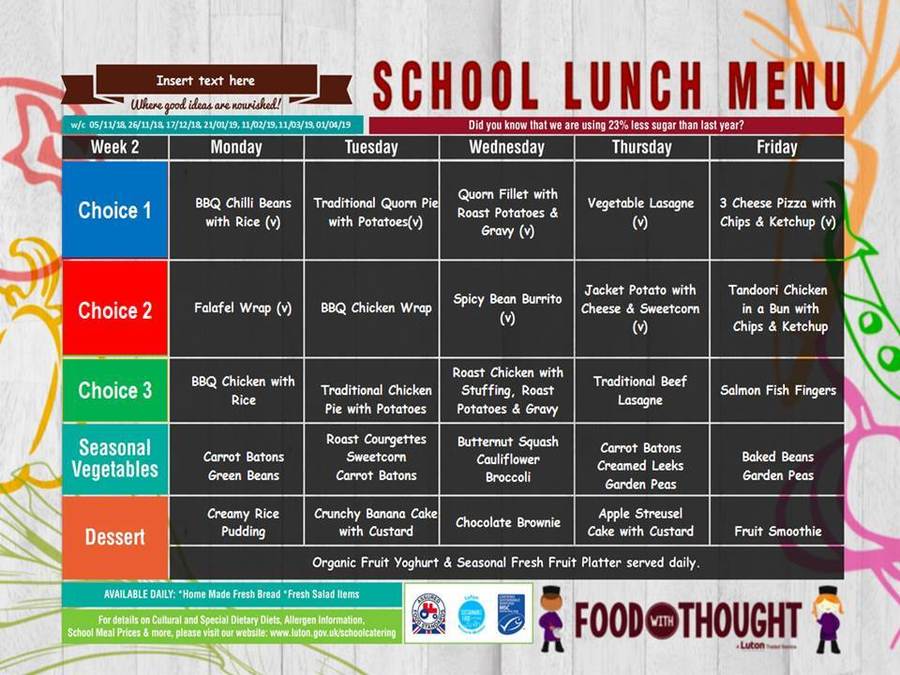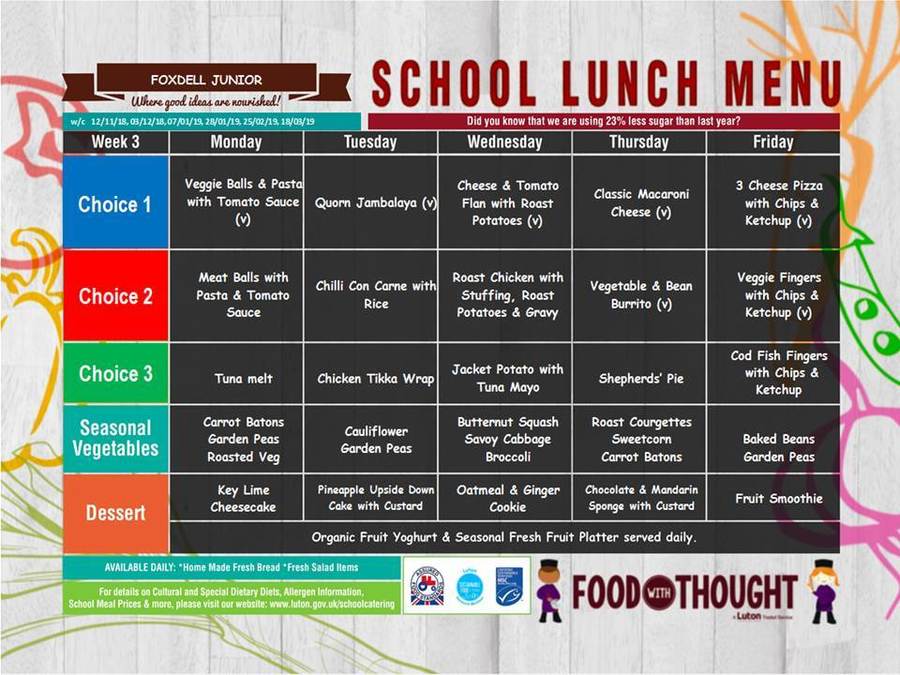 Tucasi online payment system
The school now operates a new cashless system for the payment of school meals called 'Tucasi' (SCOPAY), we no longer accept cash or cheques in school. All parents will receive a letter instructing them how to register for an online account (this will include a link code) and a barcoded letter. The new system allows parents to top-up their child's account at any time through convenient payment options :
online - Using a debit card via Allpay's internet payment services - www.scopay.com
over the counter - by presenting the barcoded letter at any Paypoint outlet
through the scopay app - available to download from the Apple App Store or Google Play for your smartphone.
If there are any concerns or further information is required please contact the School Kitchen Manager on 01582 410650 or go to www.tucasi.com
In certain circumstances, parents may be able to apply for free school meals for their child.
There are many advantages to being registered for free school meals even if your child does not choose to eat it. Schemes such as the Government's computer and home internet access and free residential visits to Dell Farm are dependant on being registered for free school meals.
Free school meals can be claimed if the family is in receipt of:
Income Support
Income-based Job Seekers Allowance
Income-based Employment and Support Allowance
Child Tax Credit and you are not receiving Working Tax Credit and with an HMRC-assessed household annual income less than £16,190
Guarantee Pension Credit
Support from National Asylum Support Service
Universal Credit
To see if you qualify and to apply for Free School Meals, please visit www.luton.gov.uk/freeschoolmeals or telephone customer services on 01582 510346
Please talk to one of our school Family Workers if you would like advice or assistance in applying for free school meals.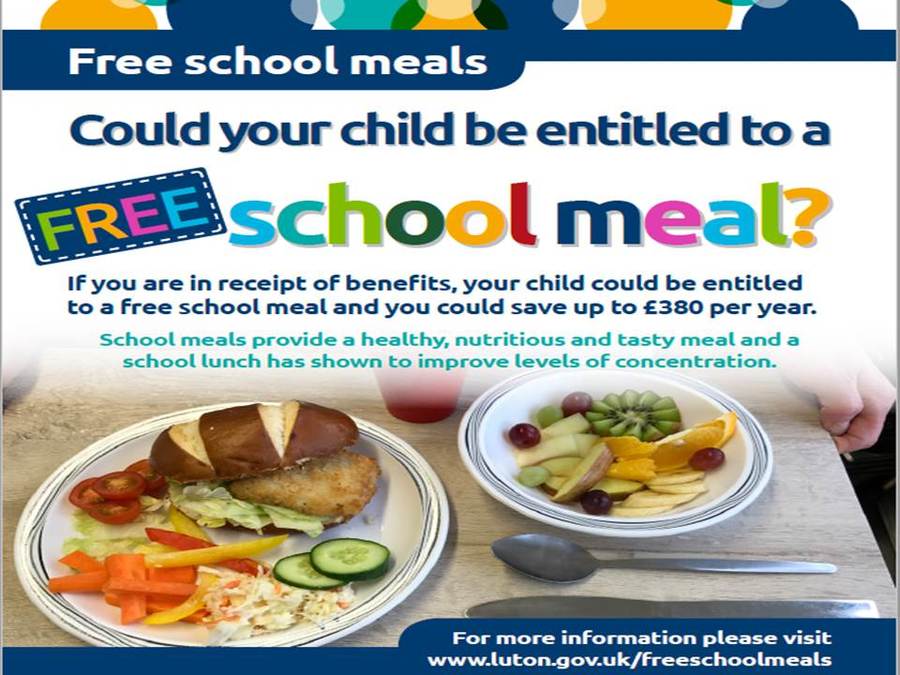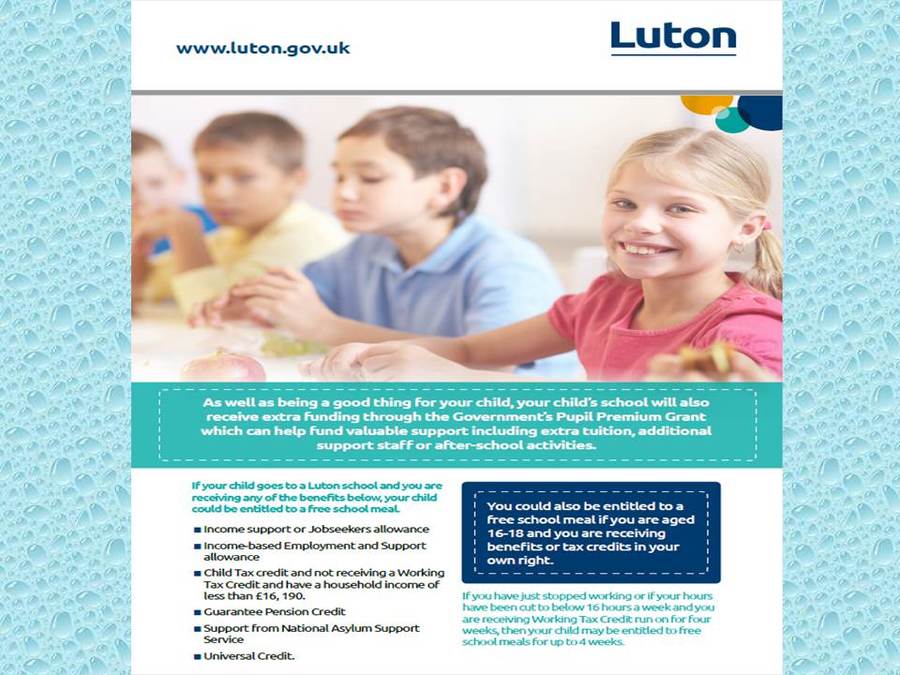 A one third pint carton of milk is available to children on a daily basis. This is paid for half termly in advance. Refunds or credits for absence are not practicable. A letter is sent home at the end of each half term to explain the cost of milk for half a term. We request that any money be brought into school in a sealed envelope with the child's name and class written on the outside and labelled 'Milk Money'. Cheques for milk money should be made payable to Foxdell Junior School.
Following a review of the schools expenditure of Pupil Premium funding, it has been decided that parents of children that are currently entitled to Free School Meals will also be able to have milk free of charge.
As part of our Healthy Eating Policy, and to encourage our children to eat fruit at playtime, a selection of seasonal fruit is available for the children to buy at cost price (generally 20p per item) Children can purchase Fruit Tokens at the stationery shop every Friday, where they will be sold for 20p each, children then exchange them for one piece of fruit each day at playtime. Money can also be sent into the School Office in an envelope marked 'Fruit Tokens' and with your child's name, class and the number of tokens you wish to buy.
Children that are currently on the Free School Meals register can have one piece of fruit free each day. Please contact the School Office for a form to complete.